Written By Brent Kraus, Ashley White and Kristos Iatridis
The global energy industry took centre stage in Canada as the 24th World Petroleum Congress (WPC) was held in Calgary from September 17-21, 2023. Over 10,000 visitors and 5,000 delegates from 111 countries came together to address the theme of Energy Transition: The Path to Net Zero.
In this special edition of Bennett Jones' quarterly M&A update, we look at deal activity in Canada's energy sector and what the key takeaways from WPC might tell us about what's to come.
We also step outside of the energy world to assess new business opportunities in Alberta being created by the province's new Captive Insurance Companies Act.
Overall Canadian M&A Deal Activity
All numbers are according to Bloomberg data in U.S. dollars (announced, completed or pending deals—excluding those that have been terminated or withdrawn—where a Canadian company is the acquirer, target or seller) as of September 30, 2023.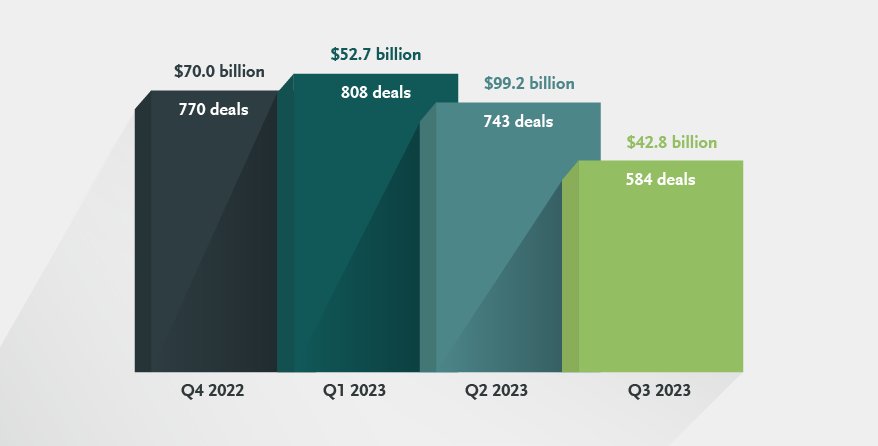 Deal activity dropped in the third quarter of this year in both announced volume and the number of deals. The decline in M&A transactions in Canada tracks broader global declines in activity for the third quarter of 2023 and year-to-date. The impact of higher interest rates on debt capital markets and lending generally has dampened fuel for M&A. This is also reflected in an overall decrease in PE transactions. Energy sector data is set out below, albeit skewed in deal value by a relatively small number of larger transactions.
Oil & Gas and Renewables M&A Deal Activity
Deals in Oil & Gas, Oil & Gas Services, Pipelines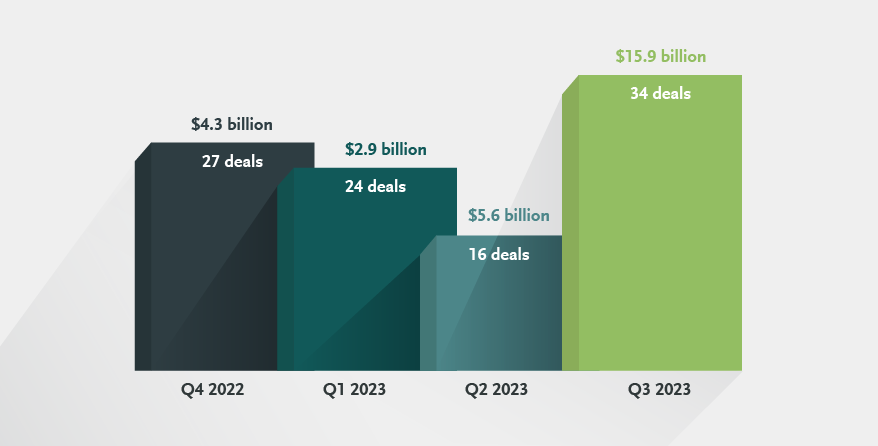 The second largest deal of 2023 by announced volume is in the oil & gas sector with Enbridge's acquisition of three natural gas utilities from Dominion Energy for $14 billion.
Deals in Energy (Alternate Sources), Renewables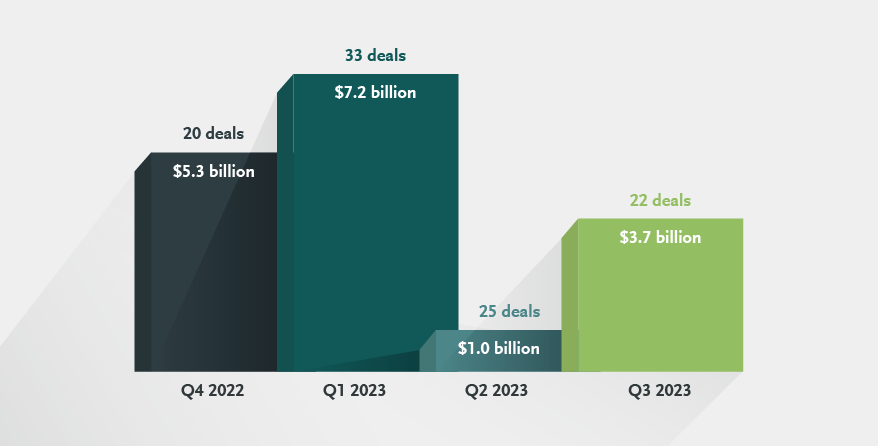 Oil & gas sector and renewables deals accounted for $19.6 billion in announced dollar value in Q3 2023—almost half of the quarter's total volume. While deal volume was lower than initial projections going into 2023, consolidation through M&A remained relatively active in the first quarter.
World Petroleum Congress: Key Takeaways
High Oil Prices and Record Demand for Oil
WPC 2023 came at an auspicious time in the energy industry. The price of oil was nearing US$100 per barrel, worldwide demand is at record levels and continuing to grow. One of Bloomberg's main reflections on WPC is that "oil isn't going anywhere" with producers remaining active and engaged within the industry. But, as the Calgary Herald points out, "industry capital investment, while going up, remains relatively muted, one of the rare times when scorching prices aren't accompanied by a significant spending boom."
While the energy transition remains a focus for producers, market realities continue to drive global demand and pricing. As a result, energy companies are emphasizing with greater confidence that the transition must take place within the context of core strategies that drive shareholder value.
CCUS
Carbon capture utilization and storage (CCUS) was one of the most-discussed themes at WPC and there was widespread agreement that it is central to the oil industry's future. CCUS is increasingly being seen as an enabling technology that offers the industry the prospect of being able to meet emissions targets. It is similarly critical for decarbonization in other industries, especially cement and steel. CCUS technology has seen significant momentum in the last two years and projects in Alberta are helping to lead the way.
It is expected that M&A activity for the remainder of 2023 will continue to be balanced with capital investment deployed towards efficiency and decarbonization opportunities, including long-term investments in CCUS.
Regulatory Barriers
The pace of regulatory change in Canada was cited by many at WPC as an obstacle to investment, and one that needs to be resolved soon. As the Congress began, Reuters reported that Canada's clean technology industry is at risk of losing C$50 billion in investments due to delays in implementing government incentives. On the fourth day of the event, the Pathways Alliance said that a $12.27 billion carbon capture and storage project proposed by Canada's major oil producers will only move forward if the federal government sets up a contract to lock in future carbon prices.
As Canada continues to determine its pace of response to the United States Inflation Reduction Act incentives that have spurred significant activity south of the boarder, the potential implications for Canadian deal-making in this sector are huge. A significant commitment to incentives may unlock material M&A activity. To the contrary, delay may result in such activity migrating to other markets, including the United States.
Alberta's Pause on Renewable Energy Projects
It has now been two months since the Alberta government directed the Alberta Utilities Commission (AUC) to pause issuing new approvals for renewable electricity projects until at least February 29, 2024. The AUC provided additional details on its inquiry on September 11, 2023 (a Bennett Jones update is available here).
The province's renewables industry has been on a tear in recent years, with an estimated $4 billion of investment since 2019. Alberta added more than three-quarters of Canada's new renewable generation capacity in 2022. The government attributes much of this success to Alberta's unique deregulated electricity market.
It has been reported that 118 projects are impacted by the moratorium, with the potential production of solar energy impacted the most, followed by wind energy and battery energy storage. With the regulatory landscape in flux, and the current pause on renewable energy project investments in Alberta, there is a risk companies may refocus investment on other provinces and the U.S.
Captive Insurers in Alberta
Alberta's new Captive Insurance Companies Act (CICA) came into force in July 2022, opening the door to the creation of purpose-built captive insurers through either corporations or partnership structures—an advantage that is unique to the province.
Since July 2022, nine captive insurance companies have been licensed in Alberta. These companies have been licensed to provide a wide range of insurance offerings, including property, automobile and other forms of liability insurance, as well as first party coverages including credit insurance and accident and sickness insurance. It is also noted that Alberta captives are able to insure risks across the country as well as internationally.
As industry players become more familiar with the CICA and Alberta's friendly regulatory environment towards captives, we anticipate the number of captives, and the complexity of potential service offerings, will continue to grow.
By way of example, in September 2023, Bennett Jones, working with its client and a specialized broker, launched the first association captive licensed in Alberta, which is also the first captive in Alberta established through a limited partnership.
Bennett Jones looked at the key features of the CICA—and what businesses need to think about when considering if forming a captive is right for them—in a previous insight.
More information is available on Bennett Jones' Captive Insurers and Risk Management practice page.
Looking Ahead
A repeated theme during WPC was that the energy transition will continue, but it will not be linear. Market participants will continue to strive towards long-term goals, but will be required to balance these goals with market realities driven by demand, energy affordability and energy security. Optimistically, this may drive M&A activity not only in transition-related strategies, but also core business opportunities.
Bennett Jones M&A Practice
Bennett Jones' Mergers & Acquisitions practice spans all industries—particularly those that drive the Canadian economy. Our lawyers account for your risk appetite and the commercial realities likely to apply after closing to guide negotiation strategy and structuring.
To discuss the developments and opportunities shaping the Canadian M&A landscape, please contact the authors.